Standard Dual Filter
Overview
Specifications
Collateral
Videos
Industries
News
Parts
Overview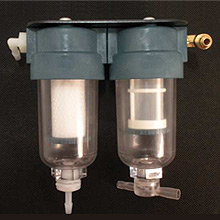 product_overview
The Standard Dual Filter includes two polycarbonate hex bowls with a bracket mounting and is used typically in vacuum operations. It is rated at up to 100 psi. We can include any plumbing you would like.
The Standard Dual Filter includes an automatic drain and a power drain with a valve that works as a check valve. It runs pressure through the orifice and is a Venturi, drawing the moisture out from the bowl under pressure, dispelling the moisture and disallowing any air to come up into the bowl. This prevents water and contaminants from coming through the pump. This filter provides good service and good reliability for your pump.
The Standard Dual Filter has a water separator in one bowl. When the sample comes into this first bowl, the filter changes the pressure differential as it goes through the screen, reduces the dew point, and causes the water in the sample to fall out to the bottom. The water can then be drawn out and thrown overboard. If any water makes it through the first filter (this is not likely), it is screened out in the second stage in the second bowl.
The Standard Dual Filter provides double the filtration potential and the ability to use different types of filter media (tri-compound coalescing, charcoal, and a finer micron filter). It also gives you two stages of filtering, allowing the first to be used, for example, as a water separator, and the second as a media filter.
Filters have o-ring seals on the perimeter so you can adjust the bowl at any position you want and it still seals without being torqued. These filters are highly reliable, easy to use, economical, and robust.
Specifications
General Specifications
Polycarbonate hex bowl
Two
Easy replacement of internal filter
yes
O-ring seals
yes
Bracket mounting
optional
Rated up to
100 psi
Automatic drain and syphon drain with valve that works as check valve
optional
Two-stage filtration
yes
Different types of filter media available
Tri-compound coalescing
5 micron and 10 micron
Port size
1/8"
Collateral
News
Parts
Below Tabs
Template: single-product.php