IR-208 Gas Analyzer
Overview
Specifications
Collateral
Videos
Industries
News
Parts
Overview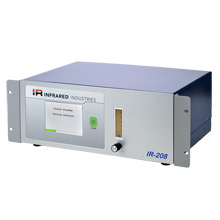 product_highlights
Multi-gas capability
Numerous gas choices
Extreme accuracy
Excellent durability
Tailored to your application
product_overview
Principles of Operation
The IR-208 Gas Analyzer integrates two different types of gas measurement into one instrument. A multiple channel infrared detector array utilizing a single beam infrared optical system detects target gases using specially designed narrow band-pass optical filters. Comparing the infrared absorption of the reactive detectors to the nonreactive detector in the array provide the comparative for measuring the gas concentration in the sample stream. With a choice of gases, up to 3 gases can be measured under infrared and up to 3 additional gases can be measured utilizing electrochemical cell, paramagnetic, or other sensors.
Features and Benefits
Infrared Industries Manufactured Components
The use of Infrared Industries manufactured optical elements, detectors, and filters guarantee low cost and consistent high quality.
Continuous Monitoring
The IR-208 features a long life, solid-state infrared detector designed for high performance and uninterrupted operation.
Manufacturing Volume and Experience
The experience that Infrared Industries has in manufacturing a large volume of analyzers results in high quality instrumentation at competitive prices.
High Accuracy
The IR-208 analyzer is calibrated to 1% of full scale without drift in calibration for 30 days. Each instrument has a LCD display for easy and accurate readouts. The IR-208's dependability, accuracy, and stability increase process control capability resulting in improved product quality and reduced process cost.
PC Connectivity
InfraView Software is provided to connect the IR-208 to a PC via RS232 output.
Easy Readability
The IR-208 features a large, easy-to-read 6.5" graphic LCD display.
Long-Term Stability
With multi-layered compensation and a high-quality electrochemical sensors, the IR-208 is designed for unsurpassed stability, accuracy, and durability.
Quality Composition
Superior materials including stainless steel sample cells and anti-reflective coatings on sapphire windows and selected o-rings mark the analyzer's construction.
Solid Performance
A rugged, long life solid-state detector assures durability.
Applications
Combustion analysis
Combustion efficiency
Burners and boilers (CO, C02)
Commercial ovens (CO, CO2, O2, NOx, SO2)
Controlled atmospheres
Heat treatment (CO, CO2, CH4)
Fermentation (CO2)
Controlled environments
Hazardous gas detection
Hydrocarbon monitoring
LEL monitoring - fuel tanks and gas lines
Process monitoring
Safety monitoring
Stack gas monitoring
Landfill BTU calculations
Stove emissions
Specifications
General Specifications
Repeatability
Less than 1% of full scale over 24 hours
Zero drift
± 1% of full scale per 24 hours
Span drift
± 1% of full scale per 24 hours
Linearity
± 0.5% of full scale fitted to theoretical curve
Noise level
Less than 1% of full scale
Warm-up time
5 minutes
Temperature range
32° F to 122° F (O° C to 50° C)
Ambient humidity
0 - 95% non-condensing relative humidity
Outputs
Analog
Choice of: 0mV - 100mV, 0V - 1V, 0V - 5V, 0V - 10V DC
Digital
RS232 bi-directional
Alarms
Zero signal fault indication
Display
6.5" LCD
Gas Flow System
Materials
Gold and stainless steel sample cells and reflective coatings
Sapphire windows and selected o-rings
Power
100V - 240V AC, 50 Hz - 60 Hz, 20W max
Dimensions
7" H x 17" W x 12" D (18 cm x 43 cm x 30 cm)
Weight
12 lbs. (5.5 kg)
| Accessories and Options | Included | Optional |
| --- | --- | --- |
| 12 month warranty | x | |
| Rack mounting | x | |
| Hardware (19", 4U) | x | |
| InfraView Software for remote control and display from a PC | | x |
| 4 to 20 mA (isolated) output | | x |
| Bluetooth | | x |
| Alarm relays | | x |
| USB (adapter required) | | x |
| Materials for corrosive gases and specialized enclosures, including NEMA-certified enclosure for hazardous environments | | x |
| Extended warranty | | x |
Below Tabs
Template: single-product.php