Standard Single Filter
Overview
Specifications
Collateral
Videos
Industries
News
Parts
Overview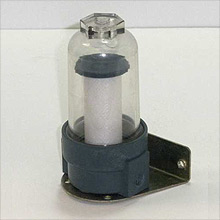 product_overview
The Standard Single Filter has one polycarbonate hex bowl with a bracket mounting and can be used for simple applications.
The Standard Single Filter can be used when any sample stream (series of gases) that is going into an analyzer or process requires a clean sample.
Filters have o-ring seals on the perimeter so you can adjust the bowl at any position you want and it still seals without being torqued. These filters are highly reliable, easy to use, economical, and robust.
Specifications
General Specifications
Polycarbonate hex bowl
One
Easy replacement of internal filter
yes
O-ring seals
yes
Bracket mounting
optional
Rated up to
100 psi
Automatic drain and syphon drain with valve that works as check valve
optional
Different types of filter media available
Tri-compound coalescing
5 micron and 10 micron
Port size
1/8"
Collateral
News
Parts
Below Tabs
Template: single-product.php