FGA4500 Gas Analyzer
Overview
Specifications
Collateral
Videos
Industries
News
Parts
Overview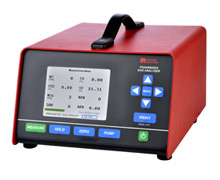 product_highlights
Quick 2 Hz sampling rate
Multi-language LCD display
Measures up to 5 gases: HC, CO, CO2, O2, and NOx (optional)
Displays RPM, AFR, and Lambda
Built-in data recorder
Internal or external printer
product_overview
When you need a reliable gas analyzer that can accurately speed up your emissions, tune-ups, and diagnostics testing, Infrared Industries FGA4500 is the perfect answer. By offering immediate results in seconds, the FGA4500 Gas Analyzer is the fastest machine on the market. Certified to BAR and OIML standards, this gas analyzer provides a portable, accurate, and quick solution for every tune-up and automotive mechanic shop.
The FGA4500 measures up to five gases including Hydrocarbons (HC), Carbon Monoxide (CO), Carbon Dioxide (CO2), Oxygen (O2), and Oxides of Nitrogen (NOX). Simple to operate and simple to maintain in the field, this unit lasts for many years. Economical filters and sensors are replaced in seconds, and the sample cell and optics can easily be cleaned in the field!
The FGA4500 will instantaneously calculate readings and give you Air to Fuel Ratio (AFR), Lambda, and Grams per Mile (GPM) or Grams per Kilometer (GPK) in real time. When attached to a tachometer (optional), it reads engine speeds of up to 30,000 RPM. The optional built-in printer documents test results and allows shop owners to print their shop name, address, and other custom header text on the printout for customers' records. You can diagnose fuel-related issues accurately and quickly to provide the service that your customers need.
For those seeking performance tuning, analog outputs allow the connection to a dynamometer, chart recorder, or data acquisition console to conveniently display all essential information from the analyzer.
The FGA4500 measures exhaust gases from two tail pipes and gives you the average reading, or can set up an exhaust dilution value to warn you if there are air leaks in the exhaust system. This feature will not only warn you when there is a leak in your exhaust system, it will also alert you when the exhaust probe is not fully inserted in the tailpipe.
Take the FGA4500 on the road with optional battery or by connecting the unit to the cigarette lighter via the 12-volt jack and see how the vehicle behaves in real driving situations. Or, plug it into a standard 100-240 VAC outlet for extended in-shop use. You can use the internal record feature to store all your measurements and then download the information to a PC when you return. Instead of spending hundreds or thousands of dollars for a dynamometer or test cell, you can now achieve real-world results right from the driver's seat of the car.
The FGA4500 is a cost-effective, all-in-one performer, which makes it the perfect trouble-shooting tool for your diagnostic needs. Automotive, motorcycle, or any exhaust emissions are ideal applications where detection of up to 5 different gases is required.
The FGA4500 features a dual-filtering system that filters both heavy and light debris that often penetrate vehicle emissions.
Specifications
General Specifications
Display
6.5" LCD menu-driven display; multi-language (English, Spanish, Arabic)
Displays HC, CO, CO2, O2, NOx, AFR, λ, kRPM, and GPM user-selectable
Gases measured
HC, CO, CO2 - Non-dispersive Infrared (NDIR)
O2, NOX - Electrochemical Cell
Particle filter
Coalescent media, field replaceable
Water filter
True positive screen, field replaceable; continous water separation
Certifications
BAR-90 certified
Meets BAR-97 performance specifications
Canada's AirCare Certified
Meets or exceeds OIML Class I Gas standards
Warm-up time
Five minutes or less
Response time
Approximately 2 Hz sampling rate
AC power
110V AC - 220V AC ± 10%, 50 Hz - 60 Hz
0.5A, 0.3A max
AC voltage range 90V - 240V
DC power
10V DC - 16V DC
1.5A nominal, 3.5A max
Weight
9 lbs. (4.1 kg)
Size (W x L x D)
13.2" x 10.8" x 6.5" (33.5 cm x 27.4 cm x 16.5 cm)
Temperature
35.6° F to 113° F (2° C to 45° C) Operating
-40° F to 167° F (-40° C to 75° C) Storage
Interface
RS232 with custom protocol
Gases and Ranges

(within 1% full-scale accuracy)

Hydrocarbons (HC) (n-Hexane)
0 - 10,000 ppm
Carbon Monoxide (CO)
0 - 10%
Carbon Dioxide (CO2)
0 - 20%
Oxygen (O2)
0 - 25%
Oxides of Nitrogen (NOx)
1 - 5,000 ppm
Tachometer (TACH)
0 - 30,000 rpm (displayed as krpm = 1,000 rpm)
Air to Fuel Ratio (AFR)
0 - 50%
Lambda (λ)
0 - 5
Grams per Mile (GPM)
Grams per Kilometer (GPK)
Optional Motorcycle Fittings
2, 4, and 6 cylinder manifolds
6 mm fitting for Honda, Yamaha, or Kawasaki
10 mm fitting for Ducati
Optional Software
Dynamic Link Library (DLL) for custom software development
Menus in plain English
Easy-to-use, menu-driven, Windows-based IRI Display Software
| Accessories | Included | Optional |
| --- | --- | --- |
| Oxygen sensor | x | |
| Flexible probe | x | |
| 25' sampling hose | x | |
| AC power adapter | x | |
| Operator's Manual | x | |
| Quick Start Guide | x | |
| Internal/external printer | | x |
| NOx sensor | | x |
| Inductive tachometer pick-up | | x |
| 12V DC cable | | x |
| 2-shelf rolling cart | | x |
| One year standard warranty | x | |
| Extended warranty | | x |
Collateral
Industries
Below Tabs
Template: single-product.php