IR-6400DC Handheld Gas Analyzer
Overview
Specifications
Collateral
Videos
Industries
News
Parts
Overview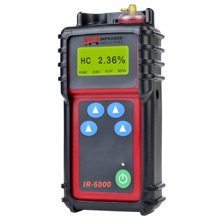 product_highlights
Total hydrocarbon (THC) analyzer
Multi-language LCD display
Built-in data recorder
Compact and self-contained – fits in your hand
Fast warm-up: less than 30 seconds
product_overview
Now you have the power of our industrial gas analyzers in your hand with the IR-6400DC (compensated) Total Hydrocarbon (THC) Handheld Gas Analyzer. The IR-6400DC is compact, lightweight, fast responding, highly accurate and reliable, and perfect for on-the-go testing.
The IR-6400DC is specifically designed to measure CH4 (methane) in addition to the full range of hydrocarbons. This allows the analyzer to distinguish a discrete CH4 value to either be read separately from the THC reading or subtracted from it. The benefit here is the CH4 being a naturally occurring hydrocarbon is not required to be reported as a constituent of the THC reading. The problem has been that methane is very difficult to separate from other hydrocarbons and therefore becomes a component of the measured THC reading. The ability to distinguish and separate the CH4 component allows the CH4 constituent to be removed from the THC reading, allowing the analyzer to report only the THC actually generated by the process requiring monitoring and reporting.The IR-6400DC reads total hydrocarbons and calibrates to a propane standard. Optional standards such as butane are available upon request.
Features and Benefits
Multi-language LCD Display
Text can be displayed on the LCD display in English, Spanish, or Arabic. If you have a need for several units in another language, please contact us to discuss.
Built-in Data Recorder
The IR-6400DC Handheld Gas Analyzer has a built-in recorder that stores data, which can later be downloaded to a PC for analysis and safekeeping.
InfraView Software
You can hook up an IR-6400DC analyzer to your PC and use InfraView Software from Infrared Industries to control, display, and graph the data from the IR-6400DC and up to seven additional Infrared Industries gas analyzers or benches.
Infrared Industries Manufactured Components
The IR-6400DC is a completely self-contained gas analyzer. Each unit contains Infrared Industries manufactured elements, which include a filter, pump, optical bench, and detectors.
Specifications
General Specifications
Measuring method
Multi-channel NDIR single beam
Gases measured
C3H8 and CH4
Output
RS232
Power
External: 10V - 16V DC
Internal: Rechargeable lithium ion battery pack
Sample flow
Internal sample pump
Ambient operating temperature
35° F to 110° F (1.7° C to 43.3° C)
Sample temperature
32° F to 482° F (0° C to 250° C)
Materials in sample flow path
Gold, sapphire, 303 stainless steel, and Viton
Response time
Less than 10 seconds
Warm-up time
Less than 30 seconds
Display
Backlit LCD, graphic, 128 x 64, multi-language (English, Spanish, and Arabic)
Front panel
5-button operator interface
Dimensions
7.5" x 3.5" x 2"
Weight
Less than 2 lbs.
Standard Gases Measured
Gas
Range
Resolution
Accuracy
Methane(CH4)
0.5% - 10%
.01%
± 2% full scale
Propane(C3H8)
0.5% - 10%
.01%
± 2% full scale
| Accessories and Options | Included | Optional |
| --- | --- | --- |
| Sample hose | x | |
| Rechargeable battery | x | |
| Serial cable | x | |
| One year warranty | x | |
| InfraView Software | | x |
| External printer | | x |
| Extended warranty | | x |
Videos
Select a Video:
Note that these videos are for the HM5000 Gas Analyzer, but are also relevant for the IR-6400DC Gas Analyzer.
Industries
Below Tabs
Template: single-product.php