IR-8400DC Gas Analyzer
Overview
Specifications
Collateral
Videos
Industries
News
Parts
Overview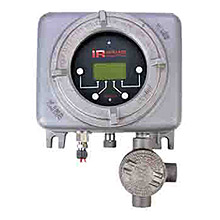 product_highlights
Total hydrocarbon (THC) analyzer
Low maintenance
Explosion-proof enclosure
NEMA 7 certified
LCD display non-contact operation
High reliability
product_overview
The Infrared Industries NDIR-based IR-8400DC (compensated) total hydrocarbon (THC) gas analyzer is specially designed to measure CH4 (methane) in addition to the full range of hydrocarbons. This allows the analyzer to distinguish a discrete CH4 value to either be read separately from the THC reading or subtracted from it.
The benefit here is the CH4 being a naturally occurring hydrocarbon is not required to be reported as a constituent of the THC reading. The problem has been that methane is very difficult to separate from other hydrocarbons and therefore becomes a component of the measured THC reading.
The ability to distinguish and separate the CH4 component allows the CH4 constituent to be removed from the THC reading, allowing the analyzer to report only the THC actually generated by the process requiring monitoring and reporting.
Tailored for the petroleum industry, this instrument is designed specifically for enhanced oil recovery applications as well as for refineries and petroleum transfer stations. The IR-8400DC is designed to continuously monitor total hydrocarbons expressed as CH4 (methane) and C3H8 (propane) as well as other hydrocarbons in process gas streams or for ambient air.
Built to withstand hostile temperature and weather environments, these analyzers come standard with a LCD display, RS232 output, analog output, and isolated linear 4-20 mA current output.
Applications
Petroleum industry
Continuous emissions monitoring
Process compliance monitoring
Process control
Features and Benefits
Electronics
The IR-8400DC is made with state-of-the-art electronics, which are housed in an explosion-proof enclosure. The analyzer is ruggedly built for a long life and a high tolerance to shock and vibration.
Material
Compatibility is assured by using corrosion-resistant materials such as stainless steel sample cells and sapphire windows and by selecting specialized materials for seal and tubing components.
Temperature
The IR-8400DC is temperature controlled and compensated for long-term stability and accuracy, negating the need for frequent calibrations. Maximized performance and a high resistance to harsh environments are maintained with the use of a temperature-stabilized optical bench and electronics.
Automatic Calibration
An option is automatic calibration, whereby an operator can select dates and times that the IR-8400DC will automatically perform its own routine calibrations and update itself without any operator assistance.
Specifications
General Specifications
Performance measurement range
0 - 100% as specified by customer
Accuracy
± 2% of reading or ± 5% full scale
Repeatability
± 1% of reading or ± 5% full scale
Stability - 24-hour period
± 0.5% full scale zero drift (maximum)
± 1% full scale span drift (maximum)
Stability - 90-day period
± 1% full scale zero drift (typical)
± 2% full scale span drift (typical)
Output noise (RMS)
Less than 0.5% full scale
Response time
Less than 10 seconds (electronic)
Warm-up time
Less than 1 hour
Temperature range
-40° F to 140° F (-40° C to 60° C)
Gas Sample Requirements
Flow rate
2 scfh (1 LPM) - recommended
4 scfh (2 LPM) - maximum
Moisture
0 to 99% non-condensing
Output
Analog
0 to 100mV standard
0V - 1V, 0V - 5V (optional)
4-20mA (isolated)
Digital
RS232 bi-directional
Alarms
Optional
Gas Flow System
Connections
Sample inlet - 1/4" compression fitting
Sample outlet - 3/8" or 1/4" compression fitting
Materials
316 SS, sapphire, Teflon, Viton, polypropylene (typical)
Standard Gases
CO2, HC, CO, O2, NOx, Butane, Propane, Methane
Power
90V - 260V AC maximum, 117 Vrms ± 10%, 50 Hz - 60 Hz
Enclosure (W x L x D)
10.25" x 10.25" x 9" (26 cm x 26 cm x 22.86 cm) enclosure with display window and attached 3.5" x 2.5" junction box; NEMA 7 (C:, Grp D, E Div 1, 2)
Weight
25 lbs. (11.35 kg)
Warranty
Infrared Industries, Inc. warrants each gas analyzer it manufactures to be free of defects in material and workmanship for a period of one (1) year from the date of delivery. Abuse, misuse or unauthorized changes excluded. Extended warranty available.
Industries
Parts
Below Tabs
Template: single-product.php