Methane Compensated CEMS Gas Analyzer IR-8400DC Provides Corrected THC Measurement
Hayward, CA – April 19, 2010
With the new Methane Compensation feature, the IR-8400DC (compensated) Total Hydrocarbon (THC) Gas Analyzer differentiates between species of Hydrocarbons (HC). The IR-8400DC with methane compensation separately measures and excludes the methane (CH4) component from the stream. The resulting lower measurement provides headroom before reaching legal limits and eliminates need for any action to be taken.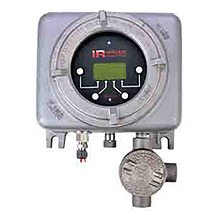 The ability to distinguish and separate the CH4 component allows the CH4 constituent to be removed from the THC reading, allowing the analyzer to report only the THC actually generated by the process requiring monitoring and reporting.
Tailored for the petroleum industry, this instrument is designed specifically for enhanced oil recovery applications as well as for refineries and petroleum transfer stations. The IR-8400DC is designed to continuously monitor the total hydrocarbons CH4 (methane) and C3H8 (propane) as well as other hydrocarbons in process gas streams or for ambient air.
Built to withstand hostile temperature and weather environments, the IR-8400DC comes standard with a LCD display, RS232 output, analog output, and isolated linear 4-20 mA current output.
The IR-8400DC is made with state-of-the-art electronics, which are housed in a NEMA 7 certified explosion-proof enclosure. The analyzer is ruggedly built for long life and a high tolerance to shock and vibration.
The IR-8400DC is temperature controlled and compensated for long-term stability and accuracy, negating the need for frequent calibrations. Maximized performance and a high resistance to harsh environments are maintained with the use of a temperature-stabilized optical bench and electronics.
"The problem has been that methane is very difficult to separate from other hydrocarbons and therefore becomes a component of the measured THC reading," said Mark Russell, Infrared Industries CEO and VP of Research and Development. "With the IR-8400DC, we can now break out the methane component from the total hydrocarbon reading."
For more information
Please contact Infrared Industries at 510-782-8100 with any questions or to request a quote.
This is single.php