HM5000 Handheld Gas Analyzer
Overview
Specifications
Collateral
Videos
Industries
News
Parts
Overview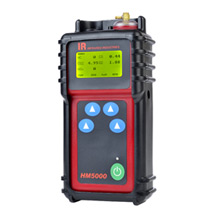 product_highlights
Internal rechargeable battery and built-in data recorder
Measures up to 5 gases: HC, CO, CO2, O2, and NOx
Calculates AFR and Lambda and measures RPM
Multi-language LCD display
Fast warm up: less than 30 seconds
product_overview
Connect the HM5000 to your vehicle's exhaust while you drive and in less than a second you'll see the composition of the exhaust gas. You'll know exactly how much Hydrocarbons (HC), Carbon Monoxide (CO), Carbon Dioxide (CO2), Oxygen (O2), and Oxides of Nitrogen (NOx) your vehicle is emitting.
You not only get instantaneous readings of up to 5 gases, you'll also get Air to Fuel (AFR) Ratio, Grams Per Mile (GPM) and Lambda which will help you in tuning that ever so tricky carburetor or injection system. The HM5000 can also measure and record your vehicle's engine speed along with all five gases. The combination of 5 gases and Tach will give you all you need to tune or troubleshoot your engine at various RPM's.
HM5000 interfaces to a PC or a PDA for complete control, display, and graphing capability. With its analog outputs, the HM5000 can be connected to a data acquisition system or run analog gauges.
You can even record all the data in the HM5000 while you're on a road test or taking laps around the track. When you return, just connect the HM5000 to a PC and download a history of your test drive for analysis.
No need to spend a fortune on a dyno to simulate road conditions; run that engine in the REAL world. Get better results with less investment. Now that's a win-win!
Applications
Perform road testing on the go
Detect fuel or emission related problems
Verify carburetor mixture
Measure catalytic converter performance
Find vacuum and exhaust leaks
Check for smog
Check PVC system
Measure engine RPM for 2 & 4 stroke or rotary engines
Adjust fuel injection or carburetor mixture
Compare the HM5000 to the Competition
HM5000
Measures all 5 gases
Multi-language display (English, Spanish, and Arabic)
Completely self-contained
Has a 2% full-scale accuracy and 2-second response time
Internal water separator and purge pump that continuously removes water from the exhaust
Competition
Most calculate or guesstimate gases
Box of attachments that feel like a tote-along suitcase
Only 5% accuracy and 16-20 seconds response time
Uses water traps, which require constant service
Five gases, AFR, RPM, Lambda, data-record, and competition-busting prices, puts the HM5000 on top!
Specifications
General Specifications
Display
Backlit LCD, graphic, 128 x 64, multi-language (English, Spanish, Arabic)
External power
10V - 16V DC, less than 1A
Internal power
Rechargeable lithium ion battery pack
Gases - NDIR
HC, CO, and CO2
Gases - Electrochemical
O2 and NOx
Operating temperature
35° F to 110° F
Size
7.5" x 3.5" x 2"
Weight
Less than 2 lbs.
Outputs
RS232
Probe
Material
Pistol grip with stainless steel
Hose length
10'
Requirements
BAR-90 and BAR-97
Insertion length
Up to 27"
Sensors
Gas
Range
Resolution
Accuracy
Hydrocarbons (HC)
0 - 10,000 ppm
1 ppm
± 2%
Carbon Monoxide (CO)
0 - 10%
0.01%
± 2%
Carbon Dioxide (CO2)
0 - 20%
0.01%
± 2%
Oxygen (O2)
0 - 25%
0.01%
± 1%
Nitric Oxide (NOx) (Optional)
0 - 5,000 ppm
1 ppm
± 2%
| Accessories | Included | Optional |
| --- | --- | --- |
| Oxygen sensor | x | |
| Probe | x | |
| 25' sampling hose | x | |
| Serial cable | | x |
| Power cord | x | |
| Rechargeable battery | x | |
| Operator's Manual | x | |
| Quick Start Guide | x | |
| Portable printer | | x |
| NOx sensor | | x |
| Inductive tachometer pick-up | | x |
| 12V DC cable | | x |
| Software | Included | Optional |
| Dynamic Link Library (DLL) for custom software development | | x |
| Menus in plain English | | x |
| Easy-to-use, menu-driven, Windows-based IRI Display Software | | x |
| Motorcycle Fittings | Included | Optional |
| 2, 4, and 6 cylinder manifolds | | x |
| 6 mm fitting for Honda, Yamaha, or Kawasaki | | x |
| 10 mm fitting for Ducati | | x |
| Warranty | Included | Optional |
| One year standard | x | |
| Extended warranty available | | x |
Collateral
Industries
Below Tabs
Template: single-product.php