FGA4000XDS Gas Analyzer
Overview
Specifications
Collateral
Videos
Industries
News
Parts
Overview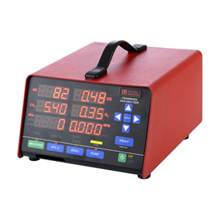 product_highlights
Quick 2 Hz sampling rate
Six large LED displays
Measures 5 gases: HC, CO, CO2, O2 and NOx (NOx is optional)
Calculates AFR and Lambda, and measures RPM for 2 or 4 stroke engines (tach lead purchase required)
Built-in real-time clock and data recorder
Internal/external printer (optional)
product_overview
When you need a reliable gas analyzer that can accurately speed up your emissions, tune-ups and diagnostics testing, Infrared Industries FGA4000XDS is the perfect answer. By offering immediate results in seconds, the FGA4000XDS Gas Analyzer is the fastest machine on the market. Certified to BAR and OIML standards, this gas analyzer provides a portable, accurate and quick solution for every tune-up and automotive mechanic shop.
The FGA4000XDS measures up to five gases including Hydrocarbons (HC), Carbon Monoxide (CO), Carbon Dioxide (CO2), Oxygen (O2), and optionally Oxides of Nitrogen (NOX). With the analyzer's six super-bright, oversized LED displays, it makes it easy to see and read. The FGA4000XDS features a bright display where they can be read from 25 feet away in dark or sunlit environments. So diagnose or tune virtually any fuel-related issue in an accurate and fast pace and provide the service that your customers need from this top performing gas analyzer.
The FGA4000XDS will instantaneously calculate readings and give you Air to Fuel Ratio (AFR), Lambda, Grams per Mile (GPM) or Grams per Kilometer (GPK) in real time. When attached to a tachometer (optional), it reads engine speeds of up to 30,000 RPM. The optional printer allows shop owners to print their shop name, address and create other custom header text from diagnostics tests providing a printed record for customers' records.
For those seeking performance tuning, an optional analog output allows the connection of a dynamometer, chart recorder or data acquisition console to conveniently display all essential information on a single monitor.
The FGA4000XDS measures exhaust gases from two tail pipes and gives you the average reading, or can set up an exhaust dilution value to warn you if there are air leaks in the exhaust system. This feature will warn you anytime when there is a leak in your muffler or when a probe is not fully inserted in the tailpipe.
Take the FGA4000XDS on the road and make it portable by connecting the unit to the car battery or cigarette lighter via the 12-volt jack and see how the vehicle behaves in real driving situations. Or, plug it into a standard 110VAC-230VAC outlet for extended in-shop use. You can use the internal record feature to store all eight parameters and download the information to a PC when you return. Instead of spending hundreds, even thousands of dollars for a test-cell, you can now achieve real world results right from the driver's seat of the car.
The FGA4000XDS is a cost-effective, all-in-one performer making it the perfect trouble-shooting tool for your diagnostic needs. Automotive, motorcycle or any exhaust emissions are ideal applications where detection of up to 5 different gases is required.
Infrared Industries developed their first gas analyzer for automotive use in 1971. This patented revolutionary analyzer was used exclusively by Sun, Bear, Allen Test, and other companies throughout the 1970s and 1980s. Almost 40 years of experience in developing and manufacturing gas analyzers for the medical, industrial, and automotive industries enables Infrared Industries to produce the finest automotive analyzer available today.
Specifications
General Specifications
Display
Six windows with 0.8" super-bright 4-digit LEDs
Displays HC, CO, CO2, O2, NOX, AFR, λ, kRPM, and GPM user-selectable
Gases measured
HC, CO, CO2 - Non-dispersive Infrared (NDIR)
O2, NOX - Electrochemical Cell
Particle filter
Coalescent media, field replaceable
Water filter
True positive screen, field replaceable; continuous water separation
Certifications
BAR-90 certified
Meets BAR-97 performance specifications
Canada's AirCare Certified
Meets or exceeds OIML Class I Gas standards
Warm-up time
Five minutes or less
Response time
Approximately 2 Hz sampling rate
AC power
110V AC - 220V AC ± 10%, 50 Hz - 60 Hz
0.5A, 0.3A max
AC voltage range 90V - 240V
DC power
10V DC - 16V DC
1.5A nominal, 3.5A max
Weight
9 lbs. (4.1 kg)
Size (W x L x D)
11" x 10.5" x 7" (27.9 cm x 26.7 cm x 17.8 cm)
Temperature
35.6° F to 113° F (2° C to 45° C) Operating
-40° F to 167° F (-40° C to 75° C) Storage
Interface
Eight analog outputs
Choice of: 0-1V DC, 0-5V DC, or 0-10V DC
RS232 with custom protocol
DLL provided upon request
Gases and Ranges

(within 1% full-scale accuracy)

Hydrocarbons (HC) (n-Hexane)
0 - 10,000 ppm
Carbon Monoxide (CO)
0 - 10%
Carbon Dioxide (CO2)
0 - 20%
Oxygen (O2)
0 - 25%
Oxides of Nitrogen (NOx)
1 - 5,000 ppm
Tachometer (TACH)
0 - 30,000 rpm (displayed as krpm = 1,000 rpm)
Air to Fuel Ratio (AFR)
0 - 50%
Lambda (λ)
0 - 5
Grams per Mile (GPM)
Grams per Kilometer (GPK)
Optional Motorcycle Fittings
2, 4, and 6 cylinder manifolds
6 mm fitting for Honda, Yamaha, or Kawasaki
10 mm fitting for Ducati
Optional Software
Dynamic Link Library (DLL) for custom software development
Menus in plain English
Easy-to-use, menu-driven, Windows-based IRI Display Software
| Accessories | Included | Optional |
| --- | --- | --- |
| Oxygen sensor | x | |
| Flexible probe | x | |
| 25' sampling hose | x | |
| AC power adapter | x | |
| Operator's Manual | x | |
| Quick Start Guide | x | |
| Internal/external printer | | x |
| NOx sensor | | x |
| Inductive tachometer pick-up | | x |
| 12V DC cable | | x |
| 2-shelf rolling cart | | x |
| One year standard warranty | x | |
| Extended warranty | | x |
Collateral
Industries
Below Tabs
Template: single-product.php