IR-6000 Series Handheld Gas Analyzers Enables On-the-Go Testing
Includes the New IR-6400DC Total Hydrocarbon Handheld Gas Analyzer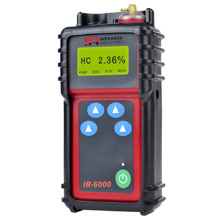 Hayward, CA – October 2, 2012 – Infrared Industries has expanded their handheld gas analyzer portfolio with a new line of handheld industrial gas analyzers: the IR-6000 Series. With a weight of less than two pounds, and measuring only 7.5" in height, 3.5" in width and 2" in depth, these analyzers are available in various configurations and are lightweight, fast responding, highly accurate and reliable, and perfect for mobile job site testing.
IR-6000 Series Handheld Gas Analyzers
The IR-6000 Series Gas Analyzers are completely self-contained and can measure up to five gases—chosen from different gases—simultaneously utilizing both NDIR and chemical luminescence sensors. Each unit contains Infrared Industries manufactured elements, which include a filter, pump, optical bench, and detectors.
The IR-6000 Series has a multi-language LCD display, which allows text to be displayed in English, Spanish or Arabic. The IR-6000 Series has a built-in recorder that stores data, which can later be downloaded to a PC for analysis and safekeeping. An IR-6000 analyzer can be connected to a PC and InfraView Software from Infrared Industries can be used to control, display and graph the data from the IR-6000 and up to seven additional Infrared Industries gas analyzers or benches.
The IR-6000 Series Gas Analyzer is suitable for multiple markets in applications as diverse as regulatory compliance, flue gas testing and measurement, hazardous gas detection, commercial ovens and stove emissions, greenhouse gas monitoring, landfill BTU calculations, stack gas monitoring, CO2 and O2-based ventilation, hydrocarbon monitoring, respiration studies, process monitoring, chemical plant monitoring and safety monitoring.
"Our HM5000 Handheld Gas Analyzer for the automotive industry has been popular, leaving our non-automotive customers to ask when we plan to make handheld gas analyzers for other industries," said Mark Russell, Infrared Industries CEO and VP of Research and Development. "We decided it was time to step up to the demand and offer what our customers have been asking for: a portable unit they can carry around on a job site and do testing."
IR-6400DC THC Handheld Gas Analyzer
The first defined unit in this series is the IR-6400DC (compensated) THC (Total Hydrocarbon) Handheld Gas Analyzer. The IR-6400DC is specifically designed to measure methane (CH4) in addition to the full range of hydrocarbons. Methane is a naturally occurring hydrocarbon and is not required to be reported as a constituent of the THC reading. Methane, however, is very difficult to separate from other hydrocarbons and typically becomes a component of the measured THC reading. The ability to distinguish and separate the CH4 component allows the analyzer to report only the THC actually generated by the process requiring monitoring and reporting.
The IR-6400DC analyzer will typically be used in such applications as hydrocarbon monitoring, regulatory compliance, mobile job site testing, petrochemical industry and process compliance monitoring.
"Having an IR-6400DC THC Handheld Gas Analyzer allows you to do on-the-go testing with much of the functionality of our IR-8400DC Gas Analyzer," said Francesca Brava, Infrared Industries Marketing and Sales Director. "Our field sales people have had a lot of requests, particularly from the petroleum industry, for analyzers like this and we are pleased to be able to meet their needs."
Infrared Industries can customize the IR-6000 Series Gas Analyzers. Please contact them at 510-782-8100 with any questions or to request a quote.
For more information
This is single.php