IR-6000 Series Handheld Gas Analyzers
Overview
Specifications
Collateral
Videos
Industries
News
Parts
Overview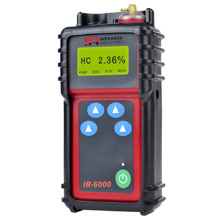 product_highlights
Measures up to five gases simultaneously
Multi-language LCD display
Built-in data recorder
Compact and self-contained – fits in your hand
Fast warm-up: less than 30 seconds
product_overview
Now you have the power of our industrial gas analyzers in your hand with the IR-6000 Series Handheld Gas Analyzers. Available in various configurations, these analyzers are compact, lightweight, fast responding, highly accurate and reliable, and perfect for mobile job site testing.
Features and Benefits
Highly Customizable and Versatile
The IR-6000 Series Gas Analyzers can measure up to five gases simultaneously utilizing both NDIR and chemical luminescence sensors. The wide range of available sensors and gases not only provides versatility, but also allows a configuration that is appropriate in accuracy and price for your application. We can customize not only the gases and sensors, but other components to meet your specialized needs.
Multi-language LCD Display
Text can be displayed on the LCD display in English, Spanish, or Arabic. If you have a need for several units in another language, please contact us to discuss.
Built-in Data Recorder
The IR-6000 Series Handheld Gas Analyzers has a built-in recorder that stores data, which can later be downloaded to a PC for analysis and safekeeping.
InfraView Software
You can hook up an IR-6000 analyzer to your PC and use InfraView Software from Infrared Industries to control, display, and graph the data from the IR-6000 and up to seven additional Infrared Industries gas analyzers or benches.
Infrared Industries Manufactured Components
The IR-6000 Series are completely self-contained gas analyzers. Each unit contains Infrared Industries manufactured elements, which include a filter, pump, optical bench, and detectors.
Specifications
General Specifications
Measuring method
NDIR single beam and electrochemical
Gas measured
User specified
Output
RS232
Power
External: 10V - 16V DC
Internal: Rechargeable lithium ion battery pack
Sample flow
Internal sample pump
Ambient operating temperature
35° F to 110° F (1.7° C to 43.3° C)
Sample temperature
32° F to 482° F (0° C to 250° C)
Materials in sample flow path
Gold, sapphire, 303 stainless steel, and Viton
Response time
Less than 10 seconds
Warm-up time
Less than 30 seconds
Display
Backlit LCD, graphic, 128 x 64, multi-language (English, Spanish, and Arabic)
Front panel
5-button operator interface
Dimensions
7.5" x 3.5" x 2"
Weight
Less than 2 lbs.
Standard Gases Measured

(others available upon request)

Gas
Minimum Detectable Limit
Maximum Detectable Limit
Accuracy
Carbon Dioxide (CO2)
10 ppm
100%
± 2% full scale or less
Carbon Monoxide (CO)
0.1%
100%
± 2% full scale or less
Methane (CH4)
500 ppm
100%
± 2% full scale or less
Oxygen (O2)
1000 ppm
100%
± 2% full scale or less
Propane (C3H8)
1 ppm
100%
± 2% full scale or less
| Accessories and Options | Included | Optional |
| --- | --- | --- |
| Sample hose | x | |
| Rechargeable battery | x | |
| Serial cable | x | |
| One year warranty | x | |
| InfraView Software | | x |
| External printer | | x |
| Extended warranty | | x |
Videos
Select a Video:
Note that these videos are for the HM5000 Gas Analyzer, but are also relevant for the IR-6000 Series Gas Analyzers.
Below Tabs
Template: single-product.php