IR-1150 Dual Stream Sample Conditioner
Overview
Specifications
Collateral
Videos
Industries
News
Parts
Overview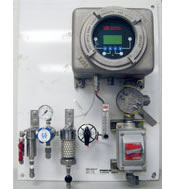 product_highlights
Delivers two clean, dry samples to the analyzer
Offered with or without pump
Two-filter sample system complete with a pressure regulator
Stainless steel filter construction
Filters moisture, dirt, heavy vapors, oils and rusty water
product_overview
The IR-1150 Dual Stream Sample Conditioner is a high-pressure sampling system designed to remove particulates and condensed vapors from the emission that petroleum companies, refineries, and transfer stations are federally and locally required to monitor.
This state-of-the-art sample conditioner features a two-filter sample system that is complete with a pressure regulator, flow meter, and calibration gas selector valve.
Capable of withstanding up to 3000 psi, the IR-1150 removes heavy debris, moisture, heavy vapors, and oils from a sample gas. Highly engineered with a secondary filtering system where pressure drops to as low as 3 psi, it removes the smallest of particles, keeping your gas contaminant-free.
The IR-1150 Dual Stream Sample Conditioner is constructed of corrosive-resistant stainless steel materials. A panel is supplied for mounting both sampler system and gas analyzer. Panel dimensions are 30" H x 26" W (76 cm x 66 cm). This unit accurately delivers two samples to an Infrared Industries IR-8400D Gas Analyzer.
Oil and gas companies use the IR-1150 to monitor processes on a daily basis to ensure that they remain within federal and state environmental compliance standards.
Specifications
General Specifications
Feature
Included
Optional
Flow meter (measures SCFH, SCFM, LPM, and LPH) - SCFH is standard
x
Gas selector valve for zero, span (calibration), and sample gases
x
High pressure (withstand up to 3000 psi) sample conditioner
x
Metered flow to adjust rate of sample flow
x
NEMA 4 certification
x
Panel mount (wall)
x
Particulate filter and condensation trap
x
Pressure regulator with safety relief valve
x
Secondary filtering system
x
Stainless steel corrosive resistant components
x
Two clean samples delivered to the analyzer
x
Two filter sample system
x
One year standard warranty
x
Extended warranty
x
Videos
Industries
News
Parts
Below Tabs
Template: single-product.php