BA-2012 Gas Analyzer
Overview
Specifications
Collateral
Videos
Industries
News
Parts
Overview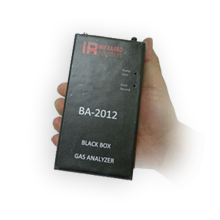 product_highlights
A gas analyzer in a black box
Includes a pneumatic package
Operated and controlled through your PC with InfraView Software (included)
Compact and self-contained - fits in your hand
Includes IR-510 NDIR Optical Bench
product_overview
The BA-2012 is the first gas-analyzer-in-a-box from Infrared Industries. It includes an Infrared Industries NDIR optical bench and pneumatics package—pump to draw in the sample and filter to clean it—and is operated and controlled through the use of InfraView Software on your computer. Its compact size offers tremendous flexibility and opportunity to include a gas analyzer in countless applications.
The BA-2012 includes the Infrared Industries IR-510 NDIR Optical Bench, which is fast responding, highly accurate, and highly reliable. It offers great design flexibility due to its small size and low power consumption. The enhanced optics and electronics dramatically reduce zero drift after the initial warm-up period. Temperature and pressure compensation eliminate the major causes of span drift found in many other NDIR instruments.
The software and communications protocol are designed to make system integration simple and fast. The command set has the flexibility to provide a variety of output configurations including pneumatic controls, printers, measurement data, and selected displays. The system monitors and corrects for critical operating parameters that affect performance and provides real-time status of the overall integrity and quality of the gas measurement.
The BA-2012 interfaces to a PC for complete control, display, and graphing capability using InfraView Software. Recording of the output data within the bench itself allows the measurements to be replayed and analyzed at a later time.
The BA-2012 also has a protected detector for accuracy and long life, integrated DC pump and solenoid drivers, graphic LCD driver, quick-clean sample cell design, and is DC powered and portable.
Features and Benefits
Measurement of Gases
Measure up to three gases—chosen from over 270 different gases—simultaneously with NDIR. Two auxiliary chem cell sensor inputs are also available. These can be customized by us at the factory.
Solid State Detector
Long life, rugged, insensitive to vibration. Low replacement cost.
Digitally Modulated
Solid state digitally modulated IR source utilizing no moving parts.
Imaging Optics
Eliminates the need for costly and fragile gold foil linings in the sample cells, reducing maintenance cost.
Solid State Electronics
Synchronous demodulation and automatic gain control minimize the influences of temperature and line voltage variations.
Easy Calibration
Semi-automated, requiring no tool or adjustments to make.
InfraView Software
InfraView Software is bundled with the BA-2012. It is a Windows-based program that allows remote control and display of up to eight different Infrared Industries gas analyzers or benches from one PC console. In addition to displaying current and logged results as raw data, the program offers full-featured graphical abilities.
Specifications
General Specifications
Gases measured
Up to 3 under NDIR
Up to 2 additional via electrochemical cell
Accuracy
± 1% of full scale
Repeatability
± 1% of full scale
Zero drift
± 1% of full scale per 24 hours
Span drift
± 1% of full scale per 24 hours
Linearity
± 0.5% of full scale fitted to theoretical curve
Noise level
Less than 1% of full scale
Warm-up time
Ready for use in less than 1 minute
Fully stabilized in 5 minutes
Response time
Less than 5 seconds
Temperature range
35° F to 110° F (2° C to 46° C)
Ambient humidity
0 - 95% non-condensing relative humidity
Outputs
Digital
RS232 bi-directional
Analog
1V, 5V, or 10V DC; 4-20 mA (optional)
Gas Flow System
Power
11.5V -16V DC; less than 1A
Power consumption
0.9 watts average
Dimensions
6.25" H x 3.25" W x 1.5" D (15.875 cm x 8.255 cm x 3.81 cm)
Weight
1.5 lbs. (680 grams)
Compliance
Meets or exceeds EN 14624
| Accessories and Options | Included | Optional |
| --- | --- | --- |
| One year standard warranty | x | |
| Extended warranty | | x |
| Pneumatic package | x | |
| NDIR optical bench | x | |
| InfraView Software for remote control and display from a PC | x | |
| Internal rechargeable lithium ion battery pack | | x |
Videos
Industries
Below Tabs
Template: single-product.php