Infrared Industries Announces First Black Box Gas Analyzer
The BA-2012 Gas Analyzer Fits in the Palm of Your Hand
"With the BA-2012, we remove the obstacle that design engineers have had in how to build a gas analyzer into processes and systems. We give them a complete gas analyzer in a protected box and allow them to view and control what is happening inside that box through their PC."
—Mark Russell, CEO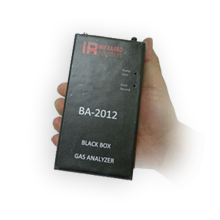 Hayward, CA – January 27, 2012 – Infrared Industries now makes it easier for a gas analyzer to be included in countless applications with its first gas-analyzer-in-a-box—the BA-2012 Gas Analyzer. With low power consumption, a weight of only 1.5 pounds, and measuring only 6.25" in height, 3.25" in width and 1.5" in depth, the compact analyzer offers tremendous design flexibility for inclusion in applications where it would not have been feasible in the past.
The BA-2012, which is DC powered and portable, includes an Infrared Industries IR-510 NDIR Optical Bench, which is fast responding, highly accurate and highly reliable. The bench is completely contained inside an aluminum box along with a pneumatics package—an integrated DC pump and solenoid drivers and a filter. Also included are a protected detector for accuracy and long life, graphic LCD Driver and quick-clean sample cell design.
The analyzer is operated and controlled through the use of InfraView Software, which is bundled with the BA-2012. Developed by Infrared Industries, InfraView Software is a Windows-based program that allows simultaneous remote control along with recording, display and graphing of data output of up to eight Infrared Industries gas analyzers or benches from one computer console.
The BA-2012 Gas Analyzer is suitable for multiple markets in applications as diverse as commercial overs and stove emissions, greenhouse gas monitoring, landfill BTU calculations, food processing, CO2 and O2-based ventilation, hydrocarbon monitoring, respiration studies, process monitoring, chemical plant monitoring, automotive emissions testing, burners and boilers, safety monitoring and fuel tanks and gas lines monitoring.
"We are constantly constructing new gas analyzer instrumentation to meet our customers' diverse needs," said Mark Russell, Infrared Industries CEO and VP of Research and Development. "With the BA-2012, we remove the obstacle that design engineers have had in how to build a gas analyzer into processes and systems. We give them a complete gas analyzer in a protected box and allow them to view and control what is happening inside that box through their PC."
The BA-2012 can measure up to three gases—chosen from over 270 different gases—simultaneously with NDIR. Two auxiliary chemical cell sensor inputs are also available. Infrared Industries can customize the BA-2012 to meet your specific needs. Please contact them at 510-782-8100 with any questions or to request a quote.
About Infrared Industries, Inc.
Infrared Industries, Inc. is a leading developer and producer of state-of-the-art gas analyzer instrumentation to assist in process control, regulatory compliance, pollution control and many types of research including alternative fuel and petrochemical development. Founded in 1959, the company is widely respected and recognized in the automotive, oil and gas, industrial, environmental, analytic and research, and utility industries for its rugged, reliable, accurate and affordable analyzers. Infrared Industries' years of experience in these markets is reflected in its wide array of gas analyzer products for original equipment manufacturers (OEM) and customer applications.
This is single.php